What should You Prepare for Traveling with A Cat?
Having lots of things your kitties need to travel happily,  including being comfortable around their carrier and the car or plane. So, preparation before your trip together is so consequential. 
● Choose the right carrier. The comfy carrier plays an important role in your kitties during the journey. Be sure that it is the right size for your cats - not too small for them to move, and not too large for them to feel exposed and bumped around.
● Introduce cats to their carrier early. Make sure your kitty gets used to their carrier before your trip. Introduce and encourage them to go inside and explore the carrier - with the door open - by putting their favorite blankets and toys there. Your pets will then feel happier to be in their carrier when traveling.
● Plan your journey in advance. Plan your route and work to include plenty of stopping places so that you can let your kitty out of the crate for short breaks, allowing them to stretch their legs, use their litter box and have a reassuring cuddle.
● Use a harness and lead for extra safety. With cat harnesses and lead, cats won't be able to escape their carrier if you reach in to reassure them, especially for travel on public transport. Of course, not all cats like harnesses or leads, so make sure you familiarise your kitty before you travel.
● Get your kittens microchipped. It's a good idea to have your cat microchipped, especially before you travel - just in case they break free.
● Bring a litter tray. With a long trip, your kitties may need a break, so the litter tray with easily disposable litter is a must. Place this in a convenient place for them when they are having a journey-break, it can then be disposed of in a suitable bin.
● Don't feed your kitty as you leave! Don't feed your kitty for 5-6 hours before you set out. This will help to prevent motion sickness and a very unpleasant journey for you all.
● Consider your destination. Choose a pet-friendly place if you're on vacation and make sure they have safe facilities that will help your cat feel like at home.
● Bring a comfortable cat home. Pack anything that will make your furry friends feel at home - including their water/food bowl, bedding, toys, and even favorite scratching card.
If Traveling By Car:
● Keep kitty secure. Make sure the carrier is secured by a harness or seat belt in the back of the car. This will prevent any sudden movements and keep your kitties safe. Never allow your cats to roam free in the car while you are driving - this is dangerous and can distract the driver and cause an accident.
● Consider the temperature. Keep good air circulation around the carrier and avoid overheating the car. If you're traveling in the heat and don't have air-con in the car, carry some ice packs, wrap them in a towel and place them around the carrier to keep your kitties cool.
● Keep your pet hydrated. Ensure that there's plenty of water available when traveling can be dehydrating.
● Take breaks.  If you are traveling far, you wanna take breaks, remember to keep all doors and windows closed if you are letting your cat out of the carrier while stopped - they can run faster than you can. Moreover, you can use the harness and lead in case of letting them out of the car for a little while before resuming your journey. Make sure never leave your cat alone in the car.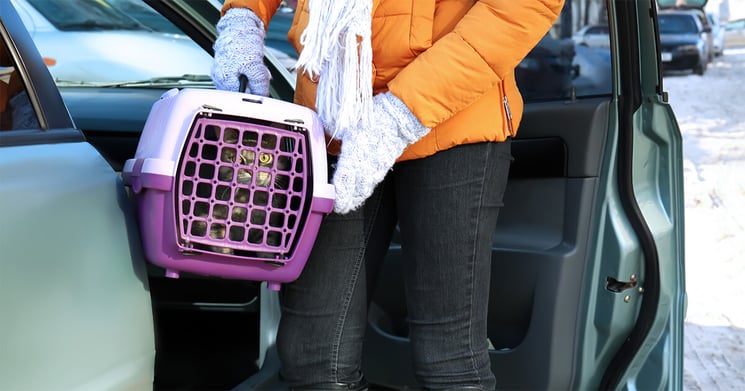 If Traveling By Plane:
● Contact the airline. Contact the airline you plan to fly with to check if you can transport your cat in the airport cabin in the carrier under the seat in front of you; avoid transporting your cat in cargo or luggage if possible. Most airlines will allow bringing your cat on board in the cabin area for a small fee. 
● Book your flight soon. Some airlines limit the number of pets that can travel in the cabin on a particular flight. Early flight reservation will ensure a place for your cat. When choosing your seat, remember that you won't be able to sit in an exit row or against the bulkhead, as there must be a seat in front of you for the carrier.
Request exactly dimensions under the airline seat. Airlines will provide you with the exact dimensions of the space under the airline's seat, which dictate the size of the carrier for your cat
● Check the types of carriers allowed in the cabin. Most airlines will accept either hard-sided carriers or soft-sided carriers. Soft-sided travel carriers are easier to slide under the airline seat space. But only some brands of soft-sided carriers are allowed by the airlines. So check which types and brands are permitted in the cabin before you buy a carrier.
ONCE YOU ARRIVE AT YOUR DESCRIPTION
Finally, you arrive at your destination, still having some things you should be attention:
● Ensure the room is safe. Always let your hosts know before coming that you're bringing a pet, to make sure everything in the room is suitable. Make sure the room is cat-safe and secure before opening the crate. Set up your kitty resources and keep the room quiet and calm as you allow your kitty to explore in their own time.
● Give your pet time to adjust. Your kitty might be a little nervous after the long journey and be reluctant to get out of the crate/carrier. It's important to give your pet time to adjust, come out at their own pace, and explore their new environment. Make sure there are some familiar items nearby - such as favorite toys and their bed, and make sure there are lots of resources nearby. If possible, give your pet the option to stay in their bed, or in the carrier while you are away. Giving them the option will let them feel they are in control!
● Give your pet time to adjust. Your kitty might be a little nervous after the long journey and be reluctant to get out of the crate. It's important to give your pet time to adjust, come out at their own pace, and explore their new environment. Let's put some familiar items nearby - favorite toys and their bed.
● Keep your eyes on your pets. Keep eyes at all times, and only let them wander freely if you are confident that they cannot escape outside to a strange area.
● Try to keep routine. Routine helps your cat to feel secure and safe. Try to maintain your kitties' routine as much as possible, like feeding and playing times.
In general, preparation for some things before traveling with your cats is immensely necessary. With stranger places, your cats may not be familiar with, so they may have unwanted behaviors. To keep your cat calm and feel comfortable, purchase Togetic Calming Diffuser and bring them along while traveling.